1970 BKPE ARCHETYPE CHEVELLE SS454
| | | |
| --- | --- | --- |
| COUPE STARTING AT: | $ | 99,999.00 |
| CONVERTIBLE STARTING AT: | $ | 109,999.00 |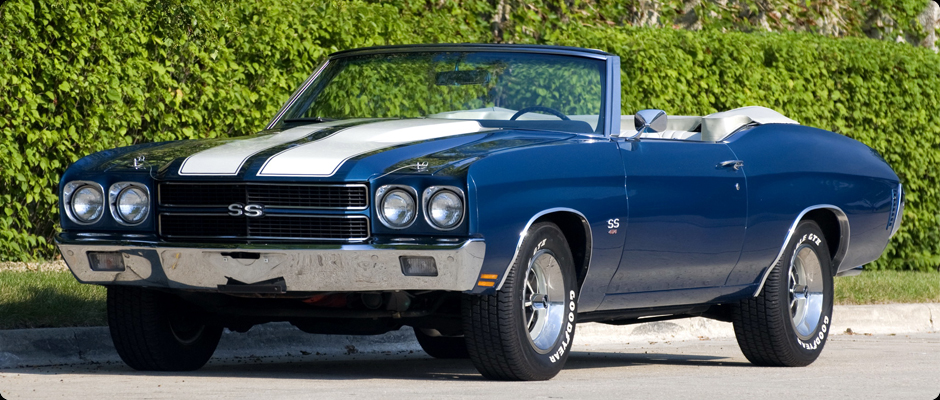 The most powerful of the muscle cars produced by Chevrolet during the early muscle car era was the mighty 1970 Chevelle SS454. The engine that was the heart of this car was the largest Chevy made, and produced an underrated 450hp and an astounding 500 lb*ft of torque. To replicate this icon in exquisite detail was our pleasure; equipping it as you would have back in 1970 and then driving it will be your pleasure. Don't get stuck with someone else's choices over 40 years ago. Allow BKPE to build you the brand new 1970 Archetype Chevelle SS454 of your dreams with one simple phone call.
We invite our clients to review these specifications and available options and then click on Pricing Information to obtain information on how to order your own Archetype SS454.
Please note that this vehicle is under development and these specifications may change without advanced notice.
BODY

Body Type
Manufacturer
Condition
Warranty

2-Door Coupe or Convertible with RPO Z15/LS6 SS454 Package
Dynacorn International
New with Concourse Body Work and Paint
BKPE 12 Month/12,000 Mile Bumper-to-Bumper, Limited Warranty

POWER TRAIN

Engine

Correct LS6 454 CID V8 Engine – 450hp
Single Holley 4557 4bbl Carburetor
Functional Cowl Induction Ram-Air System
A.I.R. Emissions System

Accessory System

RPO K85 – 63 AMP Delcotron Generator
RPO N40 – Power Steering Pump and System

Cooling System

RPO V01 – Harrison 4-Core Heavy-Duty Radiator
RPO K02 – Temperature Controlled Fan

Fuel Delivery

Original-Style Fuel Tank
3/8" Supply and 1/4" Return Fuel Lines
Mechanical Fuel Pump

Exhaust

Original-Style Cast Iron Exhaust Manifolds
2.5" True-Dual Chambered Exhaust System with Resonators
Chrome Oval Exhaust Tips

Electrical System

Original-Style Electrical System
RPO T60 – Heavy-Duty Battery

Transmission

RPO M22 – HD Close-Ratio "Rock Crusher" 4-Speed Manual Transmission
10.5" Clutch with "621" Bellhousing
Floor-Mounted Hurst Shifter
Original-Style Linkage and Pedals


Front Suspension

Classic 1970 Chevelle Frame in Original Colors
RPO F41 – Special Performance Front Suspension
Heavy Duty Springs
1-1/4" Anti-Sway Bar

Rear Suspension

RPO F41 – Special Performance Rear Suspension
Rear Anti-Sway Bar

Driveshaft

Original-Style Driveshaft

Rear Axle

Original Style 12-Bolt Rear Axle
RPO G80 – Positraction Rear End
PRO ZQ9 – Performance Axle Ratio (4.10:1)

Brakes

RPO J52 – Power Front Disc / Rear Drum Brakes
Original-Style Emergency Brake System
Original-Style Brake Lines and Routing

Wheels and Tires

Chevy SS "Magnum 500" (14"x7") Wheels
RPO G90 – G70-14 Goodyear Polyglass Tires

back to top

INTERIOR

Trim

Original-Style 1970 Chevelle Interior
RPO A51 – Strato-Bucket Seats
RPO B37 – Color Keyed Floor Mats

Color Availability

All Factory Colors


Instrumentation

Original-Style 120 MPH Speedometer
Original-Style 7,000 RPM Tachometer
RPO U14 – Special Instrumentation
Engine Water Temperature Gauge
Fuel Gauge
Voltmeter
RPO U35 – Electric Clock
Original-Style Warning Lights

Steering

Original-Style Standard Steering Wheel
Original-Style Non-Tilt Steering Column

Heating System

Original-Style Heater and Windshield Defroster
Original-Style Controls
Original-Style Dash Vents

Lighting

Original-Style Dome Light
RPO ZJ9 – Auxiliary Light Group
Ash Tray Light
Glove Box Light
Underhood Light
Trunk Light
Under Dash Courtesy Lights

Safety Equipment

Original-Style 1970 Chevelle Safety Equipment
Original-Style Deluxe Front and Rear Lap Belts
RPO AK1 – Original-Style Deluxe Front Shoulder Belts

Entertainment System

Radio Delete Equipment

back to top

EXTERIOR

Appearance

Original-Style 1970 Chevelle Exterior
Classic "SS" and "454" Emblems
RPO D88 – Sport Stripes
RPO ZL2 – Special Ducted Hood (Functional)
Bright Wheel Well Molding

Color Availability

All Factory Colors

Safety Equipment

Original-Style 1970 Chevelle Safety Equipment
Passenger-Side Side-View Mirror

Top

Painted Steel Top or
Power Canvas Convertible Top with Plastic Window

back to top

OPTIONAL EQUIPMENT

Power Train Options
Transmission


RPO M40 – Turbo Hydromatic 400 3-Speed Automatic Transmission
This option replaces the manual transmission in favor of a 3-speed automatic transmission. When ordering this option, the car comes equipped with the Hurst Dual Gate Shifter feature. This option requires RPO D55 – Console.

Performance
Equipment

RPO C48 – Heater Delete
Removes the heating system from the Chevelle to save weight and increase performance. NOTE – This option is recommended for off-road-use-only vehicles due to most states requiring heating systems to pass their vehicle inspection.

Interior Options
Convenience
Equipment


RPO A31 – Power Windows
Adds the convenience of power windows to the Chevelle SS454.

RPO A90 – Power Trunk-Lid Release
Allows the driver to open the trunk from inside the vehicle.

RPO AU3 – Power Door Locks
Allows the locking and unlocking of the driver and passenger doors with the push of a button.

RPO D33 – Driver's-Side Remote Controlled Side-View Mirror
Adds a joystick to the driver's door panel that allows the driver to control the left-hand side-view mirror from inside the vehicle.

RPO D34 – Driver's Side Visor Vanity Mirror
Adds a vanity mirror to the inside of the driver's side sun visor.

RPO D55 – Console
Adds a center console with storage bin, rear seat ashtray and courtesy light. This option is required when the RPO M40 TH400 Automatic Transmission is ordered.

This is a BKPE recommended option.



RPO N33 – "Comfortilt" Tilt Steering Column
Allows the driver to adjust the angle of the steering wheel for a more comfortable driving position.

RPO NK1 – "Comfortgrip" Steering Wheel
Replaces the standard steering wheel with a steering wheel with a cushioned surface, allowing a more attractive appearance and a better surface with which to grip the wheel.

Safety Equipment

RPO C50 – Rear Window Defroster
Installs a blower in the rear package shelf to dehumidify the rear window during cold months. NOTE – This is an original, used GM unit of limited availability.

Entertainment System

RPO U76 – Windshield-Mounted Antenna
RPO U79 – AM/FM Stereo Equipment
Adds an Antique Automobile Radio AM/FM Stereo Radio, an entertainment system that provides modern electronics in a package that mimics the original system, and includes four Kenwood speakers mounted under the dash and on top of the package shelf.

This is a BKPE recommended option.

Exterior Options
Appearance



RPO B90 – Roof Drip Moldings
Adds a decorative metal strip to the outside of the rain gutters on the driver and passenger side.

RPO B93 – Door Edge Guards
Adds a decorative metal strip to the trailing edge of each door to protect the door from dings when being opened.

RPO C08 – Vinyl Top
Depending on the exterior color, this option adds a black or white vinyl roof covering that is accented with bright metal trim.

RPO V31 – Front Bumper Guards
Adds bumper guards to the front chrome bumper.

Safety Equipment

RPO A01 – Tinted Glass
Replaces all of the clear glass with a slightly tinted glass. This option is not available with RPO A02.

RPO A02 – Tinted Windshield
Identical to RPO A01, but replaces only the windshield glass. This option is not available with RPO A01.

This is a BKPE recommended option.

Miscellaneous Options

Front License Plate Bracket
For states that require vehicles to be equipped with front license plates, this option equips the SS454 with the bracket to attach the front license plate.

Spare Tire and Jack Equipment
Believing that many of our clients would remove the trunk-mounted spare tire equipment to save unnecessary weight, we have made the provision of the equipment optional.



back to top
Please note that these specifications are subject to change without notice. BKPE assumes no responsibility for any damages resulting from our changing vehicle specifications.