1967 BKPE ARCHETYPE CORVETTE 427
| | | |
| --- | --- | --- |
| COUPE STARTING AT: | $ | 124,999.00 |
| CONVERTIBLE STARTING AT: | $ | 134,999.00 |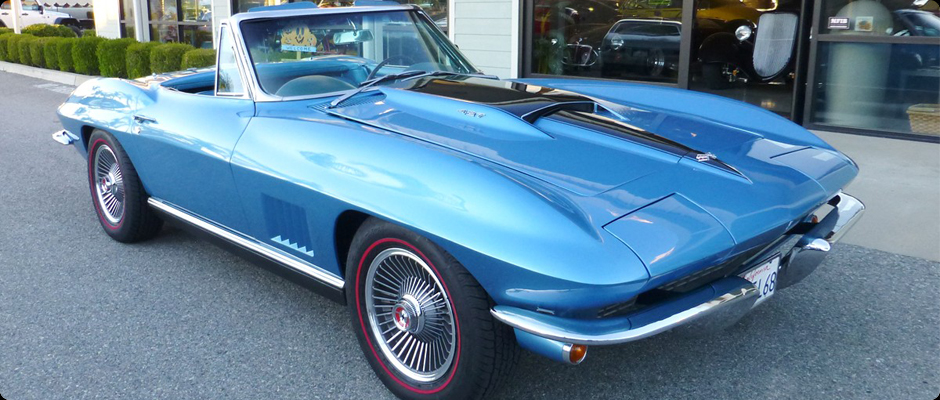 Arguably the pinnacle of the American sports car has to be the 1967 Corvette with the amazing 427 cubic inch engine. This explains why factory cars sell at auctions for well into the mid-six figures with many going to the mid-seven figures. Needless to say, most of us cannot afford to invest that kind of money, and even if we could, the car is simply too valuable to drive. Besides, who wants to get stuck with the color and options someone picked out over 45 years ago? For the enthusiast who wants this classic car but wants to equip it as he sees fit and then drive it as it was designed to be driven, BKPE presents the 1967 Archetype Corvette 427. You can have this exact replica optioned as you desire for a fraction of the cost of an original. This awesome recreation is one phone call away. What can we build for you?
We invite our clients to review these specifications and available options and then click on Pricing Information to obtain information on how to order your own Archetype 427.
Please note that this vehicle is under development and these specifications may change without advanced notice.
BODY

Body Type
Manufacturer

Condition
Warranty

2-Door Coupe or Convertible
Sermersheim's Press Molded Fiberglass Body
Caledonia/GM Steel Birdcage
New with Concourse Body Work and Paint
BKPE 12 Month/12,000 Mile Bumper-to-Bumper, Limited Warranty

POWER TRAIN

Engine

Correct L71 427 CID V8 Engine – 430+hp
Tripower Intake with Holley 3660 & 3659 Carburetors
Functional Ram-Air System Through L88 Hood
RPO K66 – Transistorized Ignition System

Accessory System

Original-Style Accessory System
RPO N40 – Power Steering Pump and System

Cooling System

Original-Style Cooling System


Fuel Delivery

Original-Style 20 Gallon Fuel Tank
3/8 Single-Feed Fuel Lines
Mechanical Fuel Pump

Exhaust

Original-Style Cast Iron Exhaust Manifolds
RPO N14 – 2.5 True-Dual Exhaust System
Side-Mounted Exhaust Pipes

Electrical System

Original-Style Electrical System

Transmission

RPO M20 – Wide-Ratio 4-Speed Manual Transmission
Aluminum 11" Bellhousing and 11" Clutch
Original-Style Linkage and Pedals


Suspension

Original 1967 Frame (Restored)
Original-Style Front Suspension
Original-Style Rear Suspension
RPO F41 – Special Front and Rear Suspension


Driveshaft

Original-Style Driveshaft

Rear Axle

Original-Style 12-Bolt Rear Axle with Choice of Ratios
RPO G81 – Positraction Rear End


Brakes

RPO J50 – Power 4-Wheel Disc Brakes
Original-Style Emergency Brake System
Original-Style Brake Lines and Routing

Wheels and Tires

Chevy Rally Wheels (15x6)
RPO QB1 – Firestone Redline Tires – 7.75x15

back to top

INTERIOR

Trim

Original-Style Standard Interior

Instrumentation

Original-Style Instrument Cluster
Original-Style 160 MPH Speedometer
Original-Style 7,000 RPM Tachometer
Original-Style Auxiliary Gauges
Fuel Level
Oil Pressure
Temperature
Amp Meter
Original-Style Clock

Color Availability

All Factory Colors

Steering

Original-Style Standard Steering Wheel
Original-Style Non-Tilt Steering Column

Heating System

Original-Style Heater and Windshield Defroster
Original-Style Controls
Original-Style Dash Vents

Lighting

Original-Style Interior Lighting Heating System Original-Style Forced Air Cabin Heat and Defroster

Safety Equipment

Original-Style 1967 Corvette Interior Safety Features
Original-Style Lap Belts
RPO A85 – Shoulder Belts

Entertainment System

Radio Delete Equipment

back to top

EXTERIOR

Appearance

Original-Style 1967 Corvette Exterior
"Corvette Sting Ray" Deck Emblem
Flags Header Emblem
Fuel Fill Door
Functional Fender Slats
L88-Style Hood
Rectangular Back-Up Lights above License Plate
Side-Mounted Exhaust System
Silver Egg-Crate Design Grill
Smooth B-Pillars

Color Availability

All Factory Colors

Safety Equipment

Original-Style 1967 Corvette Exterior Safety Features
Back-Up Lights
Hazard Lights
Passenger-Side Side-View Mirror

back to top

OPTIONAL EQUIPMENT

Power Train Options
Engine


RPO L88 – 427 CID V8 Engine with Aluminum Heads – 430hp
If there were top-of-the-line C2 Corvettes, the L88 optioned cars were it. This option replaces the RPO L71 427 CID iron block/heads V8 engine with a 427 CID iron block/aluminum head V8 engine. This option requires RPO M22 – Heavy-Duty Close-Ratio 4-Speed Manual Transmission; RPO C48 – Heater/Defroster Delete; and RPO J56 – Special Heavy-Duty Brakes.

This is a BKPE recommended option.




Transmissions

RPO M21 – Close-Ratio 4-Speed Manual Transmission
This option allows for quicker acceleration than the standard transmission. Not Available with RPO L88.

RPO M22 – Heavy-Duty Close-Ratio 4-Speed Manual Transmission
Same as RPO M21, but designed for race-specific applications. This option is required with RPO L88.

This is a BKPE recommended option.



RPO M35 – Power Glide 2-Speed Automatic Transmission
This option replaces the manual transmission in favor of the 2-speed automatic transmission. Not Available with RPO L88.


Performance Equipment

RPO C48 – Heater/Defroster Delete
Removes the heating system from the Corvette to save weight and increase performance. NOTE – This option is recommended for off-road-use-only vehicles due to most states requiring heating systems to pass their vehicle inspection. This option is required with RPO L88 and not available with RPO C60.

RPO J56 – Special Heavy-Duty Brakes
The option adds brake proportioning to increase front brake capacity, Heavy-Duty pads and additional brake pad hardware. This option is required with RPO L88.

This is a BKPE recommended option.




Interior Options
Seat Covers


RPO 898 – Leather Seats
Replaces the vinyl as the stock seat covering with leather.

This is a BKPE recommended option.




Instrumentation


RPO U15 – Speed Warning Indicator
Allow the driver to set a dial on the speedometer at a chosen speed with a buzzer sounding if the driver exceeds that speed.


Convenience Equipment

RPO A31 – Power Windows Options
Adds the convenience of power windows to the Archetype 427.

RPO C60 – Air Conditioning
Adds an original-style air conditioning unit to allow greater comfort to the vehicle occupants in warmer weather. Not available with RPO L88.

This is a BKPE recommended option.


RPO N36 – Telescoping Steering Column
Allows the driver to adjust the distance between him and the steering wheel by moving the column in or out for a more comfortable driving position.

Safety Equipment

RPO A82 – Headrests
Adds headrests to the standard seats to provide the vehicle occupants some measure of protection from whiplash-type injuries in a rear impact collision.

Entertainment System

RPO U69 – AM-FM Radio
Adds an Antique Automobile Radio AM-FM Radio, an entertainment system that provides modern electronics in a package that mimics the original system, and includes Kenwood speakers in the dash; grounding and noise suppression equipment; and a rear, fender-mounted antenna.

This is a BKPE recommended option.

Exterior Options
Convertible Top


RPO C07 – Auxiliary Hardtop
Provides the client with a fiberglass hard top to supplement the canvas hardtop that stows under the body behind the rear seats when not in use, providing greater protection against the elements when installed. This option is for the Convertible Body Style only.



Safety Equipment


RPO A01 – Tinted Glass
Replaces all of the glass with glass with a slight tint to reduce the glare caused by lights exterior to the vehicle. This option is not available with RPO A02.

RPO A02 – Tinted Windshield
Identical to RPO A01, but replaces only the windshield glass. This option is not available with RPO A01.

This is a BKPE recommended option.

Wheels

RPO N89 – Cast Aluminum Bolt-On Wheels
Replaces the Rally Wheels with 15" cast aluminum wheels similar to the Kelsey-Hayes knock-off wheels from earlier years but now bolt-on.

Miscellaneous
Options

Front License Plate Bracket
For states that require vehicles to be equipped with front license plates, this option equips the Archetype 427 with the bracket to attach the front license plate.

Spare Tire and Jack Equipment
Believing that many of our clients would remove the trunk-mounted spare tire equipment to save unnecessary weight, we have made the provision of the equipment optional.


back to top
Please note that these specifications are subject to change without notice. BKPE assumes no responsibility for any damages resulting from our changing vehicle specifications.