G5 BKPE CAMARO ZL1-XTREME
| | | |
| --- | --- | --- |
| COUPE STARTING AT : | $ | 99,999.00 |
| CONVERTIBLE STARTING AT : | $ | 109,999.00 |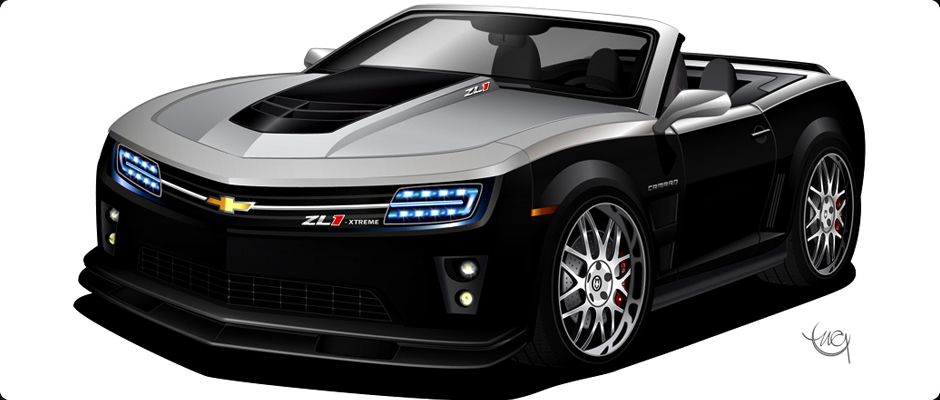 Let's face it, the G5 Chevy Camaro ZL1 is the baddest street Camaro Chevrolet has ever built. But it is not as faithful to its 1969 namesake as it could be. Therefore, we have engineered an even better Camaro for the purist's ultimate street Camaro: the G5 BKPE Camaro ZL1-Xtreme.

We invite our clients to review these specifications and available options and then click on Pricing Information to obtain information on how to order your own ZL1-Xtreme.
BODY

Body Type
Condition
Warranty

G5 Chevrolet Camaro ZL1 Coupe or Convertible
Factory New and BKPE Modified
GM Factory Warranty + BKPE 1 Year/12,000 Mile Limited Warranty on Modifications

POWER TRAIN

Engine

LSA EFI V8 Engine Bored and Stroked to 427 CID – 850hp
RevXtreme RX Super Chiller Intercooler System
Factory Supercharger Kit with Smaller Pulley
Mast Motorsports Black Label Heads
Mast Motorsports Phaser Camshaft
Air Raid Cold Air Induction Kit
Ported and Polished Throttle Body
Performance Optimized ECU
SLP Underdrive Pulley
SLP 160 Degree Thermostat

Exhaust

SLP Long-Tube 1-3/4" Headers with 3" Collectors
SLP Hi-Flow Catalytic Converters
SLP 3" Stainless Steel Power Flow Exhaust System with X-Pipe

Transmission

GM/Tremec TR-6060 6-Speed Manual Transmission
RPS Street Twin Carbon Lite Twin-Disc Clutch
Hurst Shifter with SLP Skip-Shift Delete

GM 6L90E 6-Speed Automatic Transmission*
Performance Optimized Controller Routines
Pro-Torque Torque Converter

Suspension
Package

Pfad Stage 3 ZL Spec Performance Suspension Kit
1.25" Drop Springs with Increased Spring Rate
ZL1 Specific Sway Bars, Front and Rear
Rear Tie Rod Ends and Bushings
Rear Trailing Arms with Bushings
Sold Rear Sub-Frame Bushings.

Pfad Stage 5 ZL Spec Performance Suspension Kit*
Adds to the Stage 3 Suspension Package
Inverted Adjustable Coilovers
Camber/Caster Plate Kit (2.5" Springs)
Improved Engine Mounts
Adjustable Rear Toe Link Assembly
Complete Polyurethane Control Arm Bushing Kit

Driveshaft

The Driveshaft Shop Aluminum Driveshaft
BMR Suspension Driveshaft Safety Loop

Rear Axle

The Driveshaft Shop Level 5 Axle Half-Shafts
Richmond Gears 3.73 or 4:10 Rear Axle Ratios*

Brakes

Brembo GTR Stage 3 Brake System*
Front: 6 Piston, 2-Piece 16" Drilled and Slotted Rotors
Rear: 4 Piston, 2-Piece 15" Drilled and Slotted Rotors
SLP Roll Control/Line Lock Unit*

Wheels and Tires

Factory

Standard ZL1 Wheels and Tires

Optional

HRE/Michelin Wheel/Tire Package*


Front:
HRE 890R 20x10" Wheels
Michelin Pilot Sport (275/35ZR-20) Tires
Rear:
HRE 890R 20x11" Wheels
Michelin Pilot Sport (305/25ZR-20) Tires

Customer Chosen Wheel/Tire Package*

back to top

INTERIOR

Trim

Llyods Custom Floor Mats with "ZL1-XTREME" Embroidery
"ZL1-X" Headrest Stitching
Interior Trim Package
DSV Customs Carbon Fiber Door Panels
Sherwood Innovations Carbon Fiber Trim Kit
SS Inserts Stainless Steel Trim Inserts
Door Handle Pulls
Front and Side A/C Ducts
Gauges
Side Defroster Ducts
Grant Revolution Steering Wheel
Gas Lock Shifter Knob (Manual) or Grant Evolution Shifter Knob (Automatic)
GM Suede Microfiber Interior Package*

Instrumentation

Standard Instrument Panel and Console Gauges
Fesler Built A-Pillar Gauge Pod
Autometer 2-5/8" Ultra-Lite Fuel Pressure Gauge with LED Lighting
Autometer 2-5/8" Ultra-Lite Boost Gauge with LED Lighting

Safety Equipment

Factory Safety Equipment
Sampson 5-Point Safety Harness (Front Seats)

Lighting

Advanced Automotive Concepts Interior Light Kit
ABL Lighting
Dome Lighting
Footwell Lighting
Trunk Lighting
Super Bright LED Courtesy Lights and Underhood Lights

Entertainment
System

Stock Radio System

GM My-Link Infotainment System with 9 Boston Acoustics Speakers*

Alpine/JL Audio Infotainment System*
Alpine INE-W927HD AM/FM/CD/DVD Navigation System
JL Audio XD700/5 5 Channel Amplifier
JL Audio C5-525 5.25" Component Speakers (2x)
JL Audio C2-690tx 6x9" 2-Way Speakers (2x)
JL Audio 10w3v3 10" Subwoofer
Scosche Industries Dash Insert with Electronic HVAC Controls
Sub-Thump Trunk-Mounted Subwoofer Enclosure and Amplifier Rack

Safety Equipment

Autostar Blindspot Detection System*
FLIR Pathfinder Night Vision System*
Mobileye Collision Avoidance System*

back to top

EXTERIOR

Body

Stock Hood with Dual Anvil Fiberglass Hood Scoops & Aluminum Screens
Fesler Built Front Splitter with Functional Brake Cooling Ducts
Gary's Customz Front Fenders
Next Level Performance Rear Splitter
Custom Billet "ZL1-XTREME" Badging with LED Lighting
GM Exposed Carbon Fiber Hood Insert*

Hidden Headlight
Package

G5 Concepts Chimera Grill with Hidden Headlights*

Tops

Painted Steel Top
Power Sunroof* (N/A with the Convertible Body Style)
Power Convertible Top with Glass Rear Window*


Lighting

ANZO USA Projector Headlights with CCFL Halo Rings
Advanced Automotive Concepts HID Fog Lights with Blue Halo Rings
Advanced Automotive Concepts LED Back-Lit Rear "Bow-Tie" Emblems
Advanced Automotive Concepts SMD LED Side-Marker Lights
Advanced Automotive Concepts Afterburner Tail Lights
LED License Plate Light

Windows

Fully Tinted*

Paint & Graphics

Custom Stripes Running the Length of the Body on Factory Colors
Customer-Inspired Custom Paint and Graphics Packages*

back to top

* Denotes Optional Equipment

Because we are a custom design/build shop, we allow our customers to customize their ZL1-Xtreme to make it as unique as they are. Thus, should you want us to design a ZL1-Xtreme to fit your vision of the ultimate vehicle, simply go to our
Price Information
page and tell us what you want or call our customer service department at 1-888-969-BKPE (2573).

Please note that these specifications are subject to change without notice. BKPE assumes no responsibility for any damages resulting from our changing vehicle specifications.