C1 BKPE CORVETTE SCIMITAR-STAGE I
| | | |
| --- | --- | --- |
| CONVERTIBLE STARTING AT: | $ | 109,999.00 |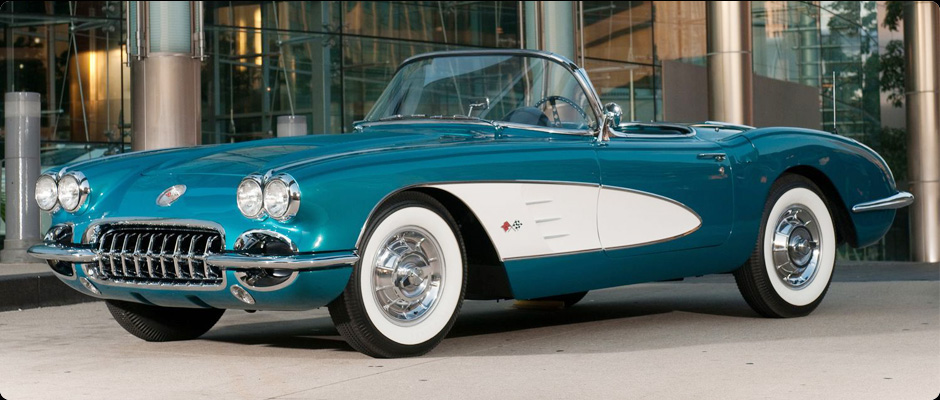 You love the look and feel of the classic C1 Chevy Corvette, but you find original examples way out of your price range and you have no desire to maintain a 50 year old car. For you, BKPE is proud to unveil the Scimitar-Stage I, a C1 Corvette with the look of the classic, but within which lies the heart and soul of a modern muscle car. Available with 5 appearance packages, up to 13 factory options or their modern equivalent as standard, an available 7 additional options, and the same color pallet offered by Chevrolet, the Corvette of your dreams is but a phone call away. What can we build for you?
We invite our clients to review these specifications and available options and then click on Pricing Information to obtain information on how to order your own Scimitar.
Please note that this vehicle is under development and these specifications may change without advanced notice.
BODY

Body Type
Manufacturer
Condition
Warranty

2-Door Convertible
Sermersheim's Press Molded Fiberglass Body
New with Concourse Body Work and Paint
BKPE 12 Month/12,000 Mile Bumper-to-Bumper, Limited Warranty

APPEARANCE PACKAGES

1958 C1

4-Headlight Design with Chrome Bezels
Chrome Spears Along the Top of Fenders
"Washboard" Hood
Simulated Front Brake Cooling Ducks
9 Chrome Vertical Grill Bars
Chrome "Suspenders" Mounted on Trunk
Side Alcoves with Simulated Engine Vent and Chrome Spears
"Crossed Flags" Fender, Hood and Trunk Emblems
"Fuel Injection" Emblem on Fender
Exhaust Exiting Through Rear Valance

1959 C1

Same as the 1958 C1, Except as Follows:
Delete "Washboard" Hood
Delete Trunk-Mounted "Suspenders"
Storage Bin on Passenger Side of Interior
"Corvette" Emblem Above Grab Bar
New Door Panels
T-Handle Shifter
New Seat Design

1960 C1

Same as the 1959 C1, Except as Follows:
Unique Interior Stitching

1961 C1

Same as the 1960 C1, Except as Follows:
Body-Colored Headlight Bezels
"Crossed-Flags" Under "V" Emblems on Hood and Fenders
Unique Simulated Engine Vent
"Ducktail" Rear End Design with 4 Round Tail Lights
Decklid Crease
Unique Rear Bumper
Exhaust Exiting Under Rear Valance
"C-O-R-V-E-T-T-E" Ahead of Hood
"Crossed-Flags" Gas Cap in Center of Trunk

1962 C1

Same as the 1961 C1, Except as Follows:
Molded Cove Area into Fenders and Doors
Chrome Rocker Panel Moldings

back to top

POWER TRAIN

Engine

GM 5.3L LS3327 EFI V-8 Engine – 350hp
GM ECU, MAF and Harness (Performance Optimized)
GM Drive-By-Wire Throttle Body
GM Accessory Drive
SLP Underdrive Pulley
Custom Cold-Air Intake with K&N Filter
Moroso Oil Pan & High Volume Pump and Pickup
Powermaster Performance Starter

Cooling System

Be Cool Aluminum Radiator
Be Cool Dual Electric Fans and Aluminum Overflow Canister
Street and Performance 160 Degree Thermostat
B&M Oil Cooler with Red Horse Fittings and Stainless Steel Hard Lines

Fuel Delivery

Original-Style Fuel Tank Set-Up for EFI & In-Tank Pump
Aeromotive A1000 Fuel Pressure Regulator and In-Line Fuel Filters
Custom Stainless Steel Lines with Red Horse Fittings
Unique Stealth Routing of Fuel Lines for Minimum Visibility
Custom C6 Corvette Engine Cover

Exhaust

Dynatech Musclemaxx Headers with 3" Collectors
Stainless Steel 3" True-Dual Exhaust System
Magnaflow Mufflers Chrome Exhaust Tips

Electrical System

American Autowire Classic Update Wiring Harness
Unique Stealth Routing of Harness for Minimum Visibility
Optima Red Top Battery (Engine Compartment Mounted)

Transmission

American Powertrain TKO 5-Speed Manual Transmission
American Powertrain Mechanically-Actuated Clutch
Modified Original-Style Shifter
Energy Suspension Polyurethane Mount

GM 4L70E Supermatic 4-Speed Automatic Transmission*
Brand New GM 4L70E Supermatic 4-Speed Automatic Transmission
Street and Performance Harness and TCU (Performance Optimized)
GM Stall Converter
Modified Original-Style Automatic Shifter
Energy Suspension Polyurethane Mount
LED Shifter Lighting

Front Suspension

Original C1 Corvette Frame (Powdercoated)
Jim Myer C1 Corvette Independent Front Suspension Kit
Tubular Upper and Lower Control Arms
Adjustable Coil-Over-Shocks
1" Anti-Sway Bar
Power Rack and Pinion Steering Kit
GM Type 2 Power Steering Assist with Custom Lines

Rear Suspension

Jim Myer C1 Corvette 4-Link Rearend Kit
Adjustable Coil-Over-Shocks
7/8" Anti-Sway Bar

Driveshaft

The Driveshaft Shop Balanced Steel Driveshaft

Rear Axle

Strange Ford 9" Rear End
Dutchman Alloy Axels
Detroit Tru Trac Positraction Unit
3.70 to 1 Ring and Pinion

Brakes

SSBC 9" Booster with Polished Master Cylinder
Wilwood Dynalite Pro 4-Wheel Disc Brake System
12.2" Cross Drilled and Slotted Rotors
4 Piston Aluminum Calipers
Original-Style E-Brake with Wilwood Cables
Custom Stainless Steel Brake Lines
Unique Stealth Routing of Brake Lines for Minimum Visibility

Wheels and Tires

Original-Style Steel Wheels (15x7) with Year Specific Hubcap
Pirelli P600 High Performance Tires (235/60R15) (F/R)

back to top

INTERIOR

Trim

Model-Year Specific Original-Style C1 Corvette Interior
Lloyd's Floor Mats with "S-C-I-M-I-T-A-R" Embroidery

Center Console

Original-Style C1 Corvette Console
Floor Mounted Shifter

Steering

Original-Style Standard Steering Column
Original-Style Steering Wheel

Instrumentation

Model Year Specific Original-Style Instrument Cluster
Original-Style 160 MPH Speedometer
Original-Style 7,000 RPM Tachometer
Original-Style Auxiliary Gauges
Fuel Level
Oil Pressure
Temperature
Voltmeter
Original-Style Clock
LED Lighting

Air Conditioning

Vintage Air GEN IV HVAC System with Original-Style Controls
Billet Aluminum Bulkhead Located Under Right Fender
Original-Style Under-Dash Vents
Original-Style Controls
Custom HVAC Evaporator Bracket
Custom A/C and Heater Core Lines
GM A/C Compressor

Convenience
Equipment

Pacific Western Design 2-Speed Hidden Wiper System Mounted in the Cowl
LED Auxiliary Lighting
Courtesy Lights
Glove Box Light
Rear Compartment Light
Under-the-Hood Light
Dynamat Sound and Heat Control Insulation
Power Windows*
Heated Front Seats*

Safety Equipment

Original C1 Corvette Safety Equipment


| | |
| --- | --- |
| Seat Belts: | Original-Style 2-Point Lap Belts |
| | Modern-Style 3-Point Retractable Seat Belts* |

Entertainment
System

Radio Delete

Original-Style RPO U69 AM/FM Radio System*
Antique Automobile Radio AM/FM/MP3 Stereo
Kenwood Dash-Mounted Dual Cone Speaker
Original-Style Quarter Panel-Mounted Antenna

back to top

EXTERIOR

Appearance

Model-Year Specific Original-Style C1 Corvette Exterior
See Appearance Package Options for Details

Tops

Canvas Convertible Top with Plastic Rear Window*
Painted Fiberglass Removable Hard Top*

Lighting

HID Xenon Headlights with Halo Rings
Original-Style Parking/Turn Signal Lights with LED Bulbs
Original-Style Tail Lights with LED Bulbs
Original-Style License Plate Light with LED Bulb

back to top

* Denotes Optional Equipment

Because we are a custom design/build shop, we allow our customers to customize their Scimitar-Stage I to make it as unique as they are. Thus, should you want us to design a Scimitar-Stage I to fit your vision of the ultimate vehicle, simply go to our Price Information page and tell us what you want or call our customer service department at 1-888-969-BKPE (2573).

Please note that these specifications are subject to change without notice. BKPE assumes no responsibility for any damages resulting from our changing vehicle specifications.