G5 BKPE TRANS AM BANDIT
| | | |
| --- | --- | --- |
| COUPE STARTING AT : | $ | 84,999.00 |
| CONVERTIBLE STARTING AT : | $ | 94,999.00 |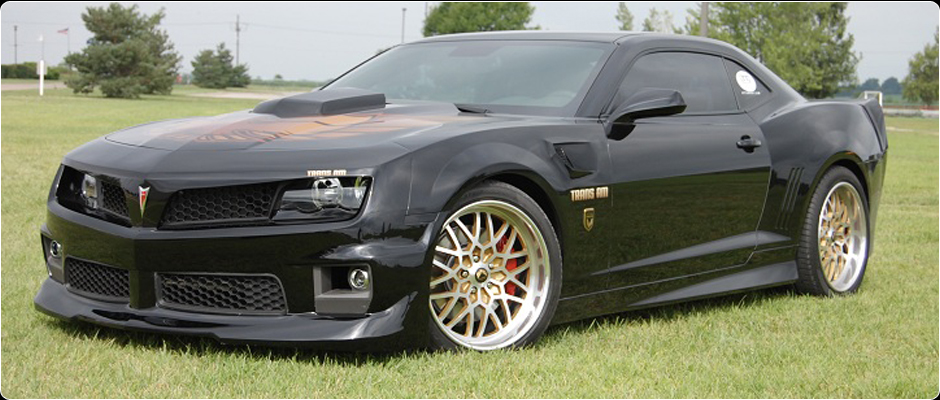 Without a doubt, one of the most attractive muscle cars ever made was the iconic 1977 Pontiac Trans Am. Despite being immortalized in movies of the period, the recent death of Pontiac sealed the fate of this automotive legend. Or did it? Black Knight Performance Engineering, Inc, is pleased to announce that, starting with a G5 Camaro 1SS, we are bringing it back and back with a vengeance.

We invite our clients to review these specifications and available options and then click on Pricing Information to obtain information on how to order your own Bandit.
BODY

Body Type
Condition
Warranty

G5 Chevrolet Camaro 1SS Coupe or Convertible
Factory New and BKPE Modified
GM Factory Warranty + BKPE 1 Year/12,000 Mile Limited Warranty on Modifications

EXTERIOR

Body

Trans Am-Style Hood with Shaker Scoop
Trans Am-Style Fender Extractors
Trans Am-Style Exhaust Splitter Strips
Trans Am-Style Front Valance
Trans Am-Style Rear Fascia Clip
Trans Am-Style Tail Lamps
Trans Am-Style Rear Spoiler
LED Turn-Signal Indicators in Side-View Mirrors*

Graphics

Trans Am-Style "Screaming Chicken" Hood Decal
Trans Am-Style Graphics Package
Custom Paint Packages*

Tops

Painted Steel Top
Power Sunroof* (N/A with the Convertible Body Style)
Power Convertible Top with Glass Rear Window*

Lighting

Trans Am-Style 4-Way HID Headlights with Blue Halo Rings
Advanced Automotive Concepts HID Fog Lights with Blue Halo Rings
Advanced Automotive Concepts SMD LED Side-Marker Lights
Trans Am-Style LED Tail Lights
LED Back-Lit Pontiac Emblem
LED License Plate Light

Wheels and Tires

Front: Trans Am-Style 20x9" "Snowflake" Wheels (Gold or Silver)
Pirelli PZero (275/45ZR20) Tires
Rear: Trans Am-Style 20x11" "Snowflake" Wheels (Gold or Silver)
Pirelli PZero (305/35ZR20) Tires


Windows

Fully Tinted*

back to top

INTERIOR

Trim

Trans Am-Style Embroidered Head Rest and Console Lid
Trans Am-Style Turned Aluminum Door Panel
Trans Am-Style Turned Aluminum Dash Inserts
Trans Am-Style Turned Aluminum Instrument Cluster
Trans Am-Style Door Panel Badges
Trans Am-Style Steering Wheel Badges
Custom Floor Mats with "BANDIT" Embroidery
Grant Revolution Steering Wheel
GasLock Shifter Knob (Manual) or Grant Evolution Shifter Knob (Automatic)
Chevrolet 2SS Option Package*

Lighting

Advanced Automotive Concepts Interior Light Kit
ABL Lighting
Dome Lighting
Footwell Lighting
Trunk Lighting
Super Bright LED Courtesy Lights and Underhood Lights

Entertainment
System

Stock Radio System

GM My-Link Infotainment System with 9 Boston Acoustics Speakers*

Alpine/JL Audio Infotainment System*
Alpine INE-W927HD AM/FM/CD/DVD Navigation System
JL Audio XD700/5 5 Channel Amplifier
JL Audio C5-525 5.25" Component Speakers (2x)
JL Audio C2-690tx 6x9" 2-Way Speakers (2x)
JL Audio 10w3v3 10" Subwoofer
Scosche Industries Dash Insert with Electronic HVAC Controls
Sub-Thump Trunk-Mounted Subwoofer Enclosure and Amplifier Rack

Safety Equipment

Autostar Blindspot Detection System*
FLIR Pathfinder NightVision System*
Mobileye Collision Avoidance System*

back to top

PERFORMANCE OPTIONS*

Engine Packages

Stage I
500hp*

GM 6.2L LS3 EFI V-8 Engine
FAST LSX Intake Manifold
Ported and Polished TB and Intake
Performance Optimized ECU
SLP Underdrive Pulley
SLP 160 Degree Thermostat
SLP Long-Tube 1-3/4" Headers with 3" Collectors
SLP Hi-Flow Catalytic Converters
SLP 3" Stainless Steel Power Flow Exhaust System with X-Pipe
Moroso Oil Pan and High Volume Oil Pump and Pickup


Stage II
600hp*

Stage I GM 6.2L LS3 EFI V-8 Engine Plus
Mast Motorsports Black Label 12 Degree Heads
Mast Motorsports Black Label 1.8 Rocker Arms
Mast Motorsports HO or Phaser Camshaft

Stage III
800hp*

Stage II GM 6.2L LS3 EFI V-8 Engine Plus
Magnuson TVS2300 Supercharger
RevXtreme RX Super Chiller Intercooler System
Fesler Built A-Pillar Gauge Pod
Autometer 2-5/8" Ultra-Lite Fuel Pressure Gauge
Autometer 2-5/8" Ultra-Lite Boost Gauge

Nitrous Oxide

NOS 125hp Computer Controlled NO2 Injection System* (N/A Stage III Engine)

Transmissions

GM/Tremec T56 6-Speed Manual Transmission
RPS Street Twin Cabon Lite Twin-Disc Clutch* **
Factory Installed Hurst Shifter with SLP Skip Shift Eliminator* **

GM 6L90E 6-Speed Automatic Transmission*
Performance Optimized TCU* **
Pro-Torque Torque Converter* **

Suspension

Stock Suspension System
Pedders Track II Suspension System*
Pedders Justice Suspension System*

Driveshaft

The Driveshaft Shop Aluminum Driveshaft*

Rear Axle

High Performance Axle Package* **
Richmond Gears 3.73 or 4:10 Rear Axle Ratios
The Driveshaft Shop Level 5 Half-Shafts

Brakes

Baer Extreme Plus Brake System*
15" 2-piece, Drilled, Slotted & Zinc Washed Rotors (F&R)
6S 6-Piston Monobloc Calipers
SLP Roll Control/Line Lock Unit*

back to top

* Denotes Optional Equipment

**  Denotes an Option Included When the Stage III Engine Package is Ordered

Because we are a custom design/build shop, we allow our customers to customize their G5 Bandit to make it as unique as they are. Thus, should you want us to design a G5 Bandit to fit your vision of the ultimate vehicle, simply go to our Price Information page and tell us what you want or call our customer service department at 1-888-969-BKPE (2573).

Please note that these specifications are subject to change without notice. BKPE assumes no responsibility for any damages resulting from our changing vehicle specifications.