1965 BKPE MUSTANG CLASSIC
| | | |
| --- | --- | --- |
| COUPE STARTING AT : | $ | 39,999.00 |
| CONVERTIBLE STARTING AT : | $ | 49,999.00 |
| FASTBACK STARTING AT : | $ | 49,999.00 |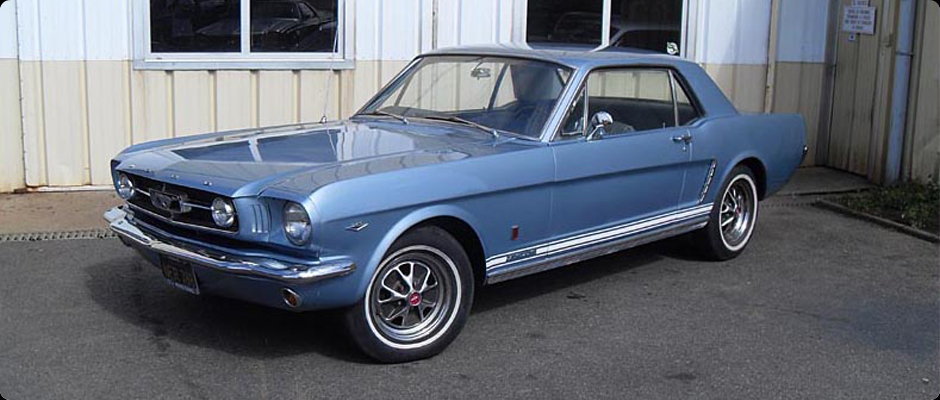 You love the look and feel of the classic 1965 Ford Mustang, but find it unacceptable that its performance has been surpassed by virtually every modern vehicle. For you, BKPE is proud to unveil the Mustang Classic, a Mustang with the look of the classic, but which has been updated to superlatively surpass the original in performance. Available with 3 body styles, 3 appearance packages, 23 factory options or their modern equivalent as standard, an available 27 additional options, and the same color pallet offered by Ford in 1965, the early Mustang of your dreams is but a phone call away. What can we build for you?
We invite our clients to review these specifications and available options and then click on Pricing Information to obtain information on how to order your own Mustang Classic.
Please note that this vehicle is under development and these specifications may change without advanced notice.
BODY

Body Type
Manufacturer
Condition
Warranty

2-Door Coupe, Convertible or Fastback
Ford Motor Company
Fully Restored with Concourse Body Work and Paint
BKPE 12 Month/12,000 Mile Bumper-to-Bumper, Limited Warranty

APPEARANCE PACKAGES

65 GT/GTA

GT Grill with GT-Specific Grill Bars
Fog Lights Mounted in the Grill
Chrome Trumpet Exhaust Tips and Trim Rings
Special Rear Valance with Exhaust Pass Through
Classic Mustang "GT" Badging and Striping
Hood Accent Molding
5-Dial Instrumentation
Flat Glove Box Door

65 Shelby GT350

Fiberglass Hood with Hood Scope and NASCAR-Style Hood Pins
Special Grill Insert
Classic Shelby Badging, Including "G.T.350" Rocker Panel Decal
Cragar Shelby 15" Wheels with Goodyear Blue Dot Tires
Side-Exit 2.5" Exhaust
Shelby Dash Gauge Pod with Tachometer and Oil Pressure Gauge
Shelby Sport Steering Wheel with "Cobra" Cap
Rear Seat Delete with Fiberglass Insert
Wimbledon White with Blue "LaMans" Stripes Running Length of Body
Available in Fastback Body-Style Only

65 Shelby GT350R

Same As 1965 Shelby GT350 With the Following Changes
Front Lower Valance with Wider Air Intake
Front and Rear Bumper Delete

POWER TRAIN

Engine

ATK High Performance Engines 302 CID V8 Engine – 300hp
Edelbrock 650 CFM Carburetor
Weiand Dual Plane Intake Manifold
Original-Style Ford Air Cleaner
Original-Style Ford Accessory Drive
Original-Style Ford Starter

Cooling System

Original-Style Ready-Rad 3-Row Radiator
Original-Style Fan and Shroud


Fuel Delivery

Original-Style 16-Gallon Fuel Tank
Original-Style Ford Mechanical Fuel Pump, Filters and Regulator
Original-Style Fuel Lines in Stock Location

Exhaust

Flowmaster Scavenger Series Longtube Headers with 2.5" Collectors
Magnflow Tru-X S/S 2.5" True-Dual Exhaust System with X-Pipe

Electrical System

American Autowire Classic Update Wiring Harness
Unique Stealth Routing of Harness for Minimum Visibility
Optima Red Top Battery (Engine Compartment Mounted)

Transmission

American Powertrain Tremec TKO 5-Speed Manual Transmission
American Powertrain Mechanically-Actuated Clutch
Modified Original-Style Shifter and Knob
Energy Suspension Polyurethane Mount


Monster Transmission's Ford 4R70W HD 4-Speed Auto Transmission*
Rebuilt Monster Transmission Ford 4R70W HD Transmission
Monster Transmission Stall Converter
Modified Original-Style Automatic Shifter
Energy Suspension Polyurethane Mount
LED Shifter Lighting
Automatic Not Available with the Shelby Appearance Packages

Front Suspension

Classic 1965 Ford Mustang Front K-Frame
Classic 1965 Ford Mustang Front Suspension
Classic Special Handling Package
Quick Ratio Steering Box with Original-Style Power Assist

Enhanced Front Suspension*
Unisteer Power Rack and Pinion Steering System
Control Freak Front Suspension Kit
Tubular Upper and Lower Control Arms
QA-1 Adjustable Coil-Over-Shocks
Polygraphite Bushings
Addco 1-1/8" Front Sway Bar
BKPE Custom Sub-Frame Connectors

Rear Suspension

Classic 1965 Ford Mustang Rear Suspension
Eaton Detroit Spring Multi-Leaf Springs
Addco 1" Rear Sway Bar
KYB GR-2 Rear Gas Shocks

Driveshaft

The Driveshaft Shop Balanced Steel Driveshaft

Rear Axle

Rebuilt Classic Ford Rear End
Ford Limited Slip Differential
3.70 to 1 Ring and Pinion

Brakes

Original-Style Power Front Disc/Rear Drum Brakes
Original-Style Booster/Master Cylinder System
Original-Style 1-Piece Front Rotors (Front)
Original-Style Single Piston Calipers (Front)
Original-Style E-Brake and Cables
Original-Style Brake Lines and Fittings

SSBC Four-Wheel Power Disc Brakes*
SSBC Force 10 11" Slotted, Zinc-Plated Rotors (F&R)
SSBC Force 10 4-Piston Calipers (F&R)
SSBC 9" Booster with Polished Master Cylinder
Original-Style E-Brake with Wilwood Cables
Custom-Stainless Steel Brake Lines

Wheels and Tires
GT/GTA



Shelby


Styled Steel (14"x6") Wheels
Front:
BF Goodridge Radial T/As (215/70R-14)
Rear:
BF Goodridge Radial T/As (235/60R-14)


Cragar Shelby (15"x6") Wheels
Goodyear Polyglass Power Cushion HP Blue Dot Ties (7.75x15")

back to top

INTERIOR

Trim

Original-Style 1965 Mustang Standard Interior
Original-Style Floor Mats
Deluxe Wood-Grained Steering Wheel*
Interior Décor Group*
Deluxe Wood Grained Steering Wheel
Deluxe Interior Door and Quarter Window Panels
Faux Wood Paneling on Dash and Console
Pistol Grip Door Handles
Bright Pedal Trim
Courtesy Lights
Under Dash Courtesy Lights
Door Courtesy Lights
Rear Seat Passenger Courtesy Lights

Center Console*

Original-Style 1965 Long Console without AC
Original-Style 1965 Short Console with AC
Storage Compartment and Rear Courtesy Light
Floor Mounted Shifter

Instrumentation

Original-Style 5-Dial Instrument Dash (N/A with Shelby)
140 MPH Speedometer
Fuel Level Gauge
Oil Pressure Gauge
Amp Meter
Engine Water Temperature Gauge
Original-Style Rally Pac Gauge Package*
Adds Gauge Pod Ahead of Instrument Panel
8,000 RPM Tachometer
Electric Clock
Parking Brake Warning Light

HVAC System

Original-Style Ford Heating System, Vents and Controls
Original-Style Ford HVAC System, Vents and Controls*


Convenience
Equipment

Visibility Group
Day/Night Rear-View Mirror
Driver's Side Remote Control Side-View Mirror
2-Speed Windshield Wipers
12-Volt Auxiliary Power Outlet in Ashtray
Driver's Side Visor Vanity Mirror*
Remote Trunk Lid Release*
Glove Box Lock*
Heated Front Seats*
Interior-Wide LED Lighting*

Safety Equipment

Original 1965 Mustang Safety Equipment
Emergency Flashers
Padded Sun Visors


| | | |
| --- | --- | --- |
| Seat Belts- | Standard Front: | Original-Style Deluxe 2-Point Lap Belts (2x) |
| | Optional Front: | 3-Point Retractable Lap/Shoulder Belts (2x) |
| | Rear: | Original-Style Deluxe 2-Point Lap Belts (3x)* |

Entertainment
System

Radio Delete

Custom Auto Sound OE-Look Radio System*
Custom Auto Sound AM/FM Stereo with iPod Interface
Single Dual-Voice and Two Door Panel Speakers
Original-Style Fender-Mounted Antenna


Sony Xplode Hidden Entertainment System*
Sony Xplode CDX-GT660UP Head Unit
Sony Xplode XS-GS6920 6x9 3-Way Speakers (2x)
Sony Xplode XS-GS1720 2-Way Speakers (2x)
Sony Xplode XS-GS80L 8" Subwoofer
Sony Xplode XM-GTR2202 Amplifier
Autoloc Hidden Antenna

Trunk

Body-Colored Trunk Walls
Rubber Trunk Mat
Coupe and Convertible Body Styles Only

back to top

EXTERIOR

Appearance

Classic 1965 Mustang Exterior
Door Edge Guards*
Front License Plate Bracket and Frame*
Luggage Rack* (N/A Fastback Body Style)


Safety Equipment

Original 1965 Mustang Safety Equipment
Back-Up Lights Mounted on Rear Lower Valance
Windshield Washers
Tinted Windshield
Tinted Windows*
Right-Side Rear-View Mirror*

Top

Painted Steel Top
Vinyl Covered Hard Top* (Coupe Only)
Canvas Power Convertible Top with Plastic Rear Window*

Lighting

Original-Style Lighting Package
Halogen Headlights
Fog-Lights
Parking/Turn Signal Lights
Side Marker Lights
Style Tail Lights
Back-Up Lights
Rear License Plate Light
HID-Xenon Headlights with Car-Wide LED Light Bulbs*

back to top

* Denotes Optional Equipment

Because we are a custom design/build shop, we allow our customers to customize their BKPE Mustang Classic to make it as unique as they are. Thus, should you want us to design a Classic to fit your vision of the ultimate vehicle, simply go to our Price Information page and tell us what you want or call our customer service department at 1-888-969-BKPE (2573).

Please note that these specifications are subject to change without notice. BKPE assumes no responsibility for any damages resulting from our changing vehicle specifications.