1967 BKPE EMILY MUSTANG-STAGE I
| | | |
| --- | --- | --- |
| FASTBACK STARTING AT: | $ | 139,999.00 |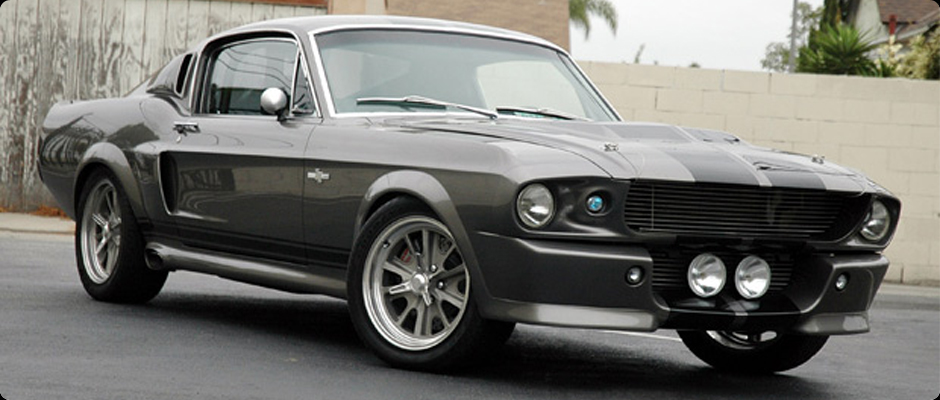 It was Memphis Raines' "unicorn" in the movie Gone in 60 Seconds, the highly customized 1967 Shelby GT500 "Eleanor" Mustang. Not since the movie Smokey and the Bandit has a movie caused such car mania, resulting in the Eleanor becoming the unicorn to many a car lover. Well, not any more. BKPE is making this iconic car available to all who desire her. Of course, as we are BKPE, we have put our own spin on this awesome machine and created for our customers a replica that is even better than the movie car: the Emily-Stage I. The Emily-Stage I replicates the movie car on the inside and out, but features greater power, more gears, bigger breaks, and a better suspension. Simply put, if you want to ride the unicorn, your adventure starts here.
We invite our clients to review these specifications and available options and then click on Pricing Information to obtain information on how to order your own Emily Mustang.
Please note that this vehicle is under development and these specifications may change without advanced notice.
BODY

Body Type
Manufacturer
Condition
Warranty

1967 Mustang 2-Door Fastback
Dynacorn International
Brand New with Concourse Body Work and Paint
BKPE 12 Month/12,000 Mile Bumper-to-Bumper, Limited Warranty

POWER TRAIN

Engine

Ford 5.0L "Coyote" EFI V8 Engine – 500hp
Ford ECU, MAF and Harness (Performance Optimized)
Ford Drive-By-Wire Throttle Body
Ford Accessory Drive System
Powermaster Performance Starter
BKPE Custom Ram Air Intake System with K&N Filters

Nitrous Oxide

NOS 125hp Nitrous Oxide Injection System
Arming Switch with Activation Light on Transmission Tunnel

Cooling System

Be Cool Aluminum Radiator
Be Cool Dual Electric Fans and Aluminum Overflow Canister
B&M Oil Cooler with Red Horse Fittings and Stainless Steel Hard Lines

Fuel Delivery

Original-Style Fuel Tank Set-Up for EFI & In-Tank Pump
Aeromotive A1000 Fuel Pressure Regulator and In-Line Fuel Filters
Custom Stainless Steel Lines with Red Horse Fittings
Unique Stealth Routing of Fuel Lines for Minimum Visibility
Ford Coyote Engine Engine Cover

Exhaust

Doug's Headers Long Tube Headers with 1-3/4" Pipes
Custom Stainless Steel 3" True-Dual Exhaust System with X-Pipe
Side-Exiting Exhaust Tips at Bottom of Rocker
Magnaflow Mufflers

Electrical System

American Autowire Classic Update Wiring Harness
Unique Stealth Routing of Harness for Minimum Visibility
Optima Red Top Battery (Engine Compartment Mounted)

Transmission

American Powertrain Tremec TKO 5-Speed Manual Transmission
American Powertrain Mechanically-Actuated Clutch
Modified Original-Style Shifter
"Go-Baby-Go" Shifter Knob
Energy Suspension Polyurethane Mount

Front Suspension

TCI Tubular Front Sub-Frame
TCI Rack & Pinion Steering with Ford Power Assist
TCI Independent Front Suspension
TCI Tubular Upper and Lower Control Arms
TCI Adjustable Coil-Over-Shocks
TCI 1-1/8" Hollow Anti-Sway Bar
BKPE Custom Subframe Connectors

Rear Suspension

TCI 4-Bar Link Suspension (Multi-Position)
TCI Adjustable Coil-Over-Shocks
TCI Rear Anti-Sway Bar

Driveshaft

The Driveshaft Shop Balanced 3.5" Steel Driveshaft

Rear Axle

Ford 9" Rear End
3.73:1 Ring and Pinion Gear Set
Eaton Positraction Unit

Brakes

Wilwood/SSBC Four-Wheel Power Disc Brake Package
SSBC 9" Booster and Polished Master Cylinder
Wilwood Dynalite Big Brake Package
12.1" SRP Cross-Drilled and Slotted Rotors (F&R)
4 Piston Calipers (F&R)
Wilwood Built-In Emergency Brake (Rear Only)
Original-Style E-Brake with Wilwood Cables
Custom Stainless Steel Brake Lines
Unique Stealth Routing of Brake Lines for Minimum Visibility

Line Lock

B&M Roll Control Unit
Button on the Shifter Knob with "Go-Baby-Go" Bezel

Wheels and Tires

Front:
Phil Schmidt Engineering GT-40 (17"x7") Wheels
Michelin Pilot Sport PS2 (235/50ZR-17) Tires
Rear:
Phil Schmidt Engineering GT-40 (17"x8") Wheels
Michelin Pilot Sport PS2 (275/40ZR-17) Tires

back to top

INTERIOR

Trim

Original 1967 Mustang Shelby GT500 Interior
Deluxe Door Panels with Brushed Aluminum Trim
Deluxe Front and Rear Seats
Brushed Aluminum Dash Trim
Silver Accelerator, Brake and Clutch Pedals
Lloyd's 4-Piece Floor Mats with "Emily-Stage I" Embroidery
Dynamat Sound and Heat Control Insulation
Fold-Down Rear Seat*

Steering

Ford Standard Steering Column
Shelby Wood-Grained Sport Steering Wheel
Black Horn Button with Center "Blue Oval" Decal
Ford "Tilt-Away" Tilt Steering Column*


Instrumentation

Original-Style 5-Dial Instrument Dash
120 MPH Speedometer
8,000 RPM Tachometer
Fuel Level Gauge
Amp Meter
Engine Water Temperature Gauge
Steering Wheel-Mounted Autometer Sport Comp Monster Tachometer

Air Conditioning

Vintage Air "Surefit" Air Conditioning
Billet Aluminum Bulkhead Located Under Right Fender
BKPE Custom HVAC Evaporator Bracket
BKPE Custom A/C and Heater Core Lines
Ford A/C Compressor
Original-Style Controls
Original-Style Vents

Convenience
Equipment

Original 1967 Mustang Shelby GT500 Convenience Equipment
12-Volt Auxiliary Power Outlet in Ashtray
Interior-Wide LED Courtesy Lighting Package
Ash Tray Light
Dome Light
Foot Well Lights
Quarter Window Lights
Original Shelby Badging
Heated Front Seats with Lumbar Support*

Color Availability

Black with Brushed Aluminum Accents

Safety Equipment

Original 1967 Mustang Shelby GT500 Safety Equipment


| | | |
| --- | --- | --- |
| Seat Belts: | Front: | Simpson 5-Point D3 Restraint (2x) |
| | Rear: | Original-Style Front Deluxe 2-Point Lap Belts (3x) |

Original-Style 2-Point Roll Bar
Transmission Tunnel-Mounted Fire Extinguisher

Entertainment

Custom Auto Sound OE-Look Radio System
Custom Auto Sound AM/FM Stereo with iPod Interface
4-Speaker System Hidden Throughout Car
Autoloc Hidden Antenna

back to top

EXTERIOR

Appearance

Shelby GT500E "Eleanor" Appearance Package
Eleanor-Style Fiberglass Front Lower Fascia Panel
Billet Grill Insert
Integrated Fog Lights
Secondary, Inboard HID/Xenon Headlights
Eleanor-Style Fiberglass Upper Fascia Panel
Billet Grill Insert
Integrated Turn-Signal Indicators
Eleanor-Style Fiberglass High-Rise Hood
Eleanor-Style Fiberglass Front and Rear Fender Flares
Eleanor-Style Fiberglass Rocker Panels with Exhaust Cutouts
Eleanor-Style Side-Exiting Exhaust Ports
Eleanor-Style Fiberglass Upper Side Scoops
Eleanor-Style Fiberglass Lower Side Scoops with Brake Cooling
Eleanor-Style Fiberglass Quarter-Panel Extensions
Eleanor-Style Fiberglass Trunk Lid with Integrated Spoiler
1967 Mercury Cougar Taillights
Hood Retainer Pins
Side-Mounted Pop-Open Gas Cap
Back-Up Lights Mounted on Rear Lower Valance
Shelby Bullet Side-View Mirrors
Electric Life Power Front-Opening Hood*
Front License Plate Bracket and Frame*

Color & Graphics Availability

Gray with Full Length Black Stripes

Safety Equipment

Original 1967 Mustang Safety Equipment
Stealth LED Third Brake Light Hidden in the Rear Panel
Tinted Windows*

Lighting

Exterior-Wide HID/LED Lighting Package
HID/Xenon Headlights
LED Back-Up Lights
LED Fog Lights
LED Parking/Turn Signal Lights
LED Tail Lights with Sequential Turn Signal Indicators
LED Rear License Plate Light

back to top

* Denotes Optional Equipment

Because we are a custom design/build shop, we allow our customers to customize their BKPE Emily Mustang-Stage I to make it as unique as they are. Thus, should you want us to design an Emily Mustang-Stage I to fit your vision of the ultimate vehicle, simply go to our Price Information page and tell us what you want or call our customer service department at 1-888-969-BKPE (2573).

Please note that these specifications are subject to change without notice. BKPE assumes no responsibility for any damages resulting from our changing vehicle specifications.